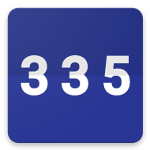 3 3 5 is a free media navigator designed for blind and visually impaired.
Easy navigation using a simple content structure, 3 3 5 users can listen to over 10,000 online radio stations as well as media on the device. It is ad free and supported by its users.
The application provides two high contrast interfaces:
A simple list interface with an easily adjustable font size to make it comfortable for vision challenged or users with poor or low eyesight. This interface is also optimized for screen readers such has Google TalkBack.
The second interface consists of a simple buttons layout and can be used without vision. The button interface consists of three rows with 3, 3, and 5 buttons each row: 3 3 5. Navigating to, exploring and enjoying content is made accessible through touch exploration and spoken feedback.

335 thank you's for using and supporting three three five!
Links